Horse-drawn carriage ride
Discover, on board our carriage, the secrets of the history of Maisons-Laffitte, following the traces of Louis XIV, Napoléon, Voltaire, Ernest Hemingway and Jean Cocteau. Learn the surprising story of the Maisons-Laffitte hippodrome, its castle and the beautiful villas in the park. Our guide will introduce you to our heritage and tell you some amazing stories. The walk ends around a glass of champagne. This walk is accessible to all.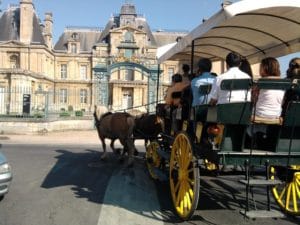 Category :  events
People max. : 200
Carriage max. : 35
Carriage capacities : From 4 to 22 peoples.
Price : on demand