Horse coaching: training in leadership
Come live a very rewarding and unique experience. Horse coaching is an original, effective and innovative approach to improve the relational quality within your teams.
The horse – an expert in communication, perfectly mirrors our attitude. Our way of communicating and our non-verbal body language are here perceived without value judgment by this extremely sensitive animal. Working with the horse allows everyone to develop their behavior vis-à-vis others, their position and their leadership skills. Your staff will be facing themselves.
The horse itself, with its outstanding qualities for developing relationships, is at the heart of this training.
Muriel Horrein, your coach during these sessions, is a trainer, teacher and certified coach at the International Coaching Institute. Her approach is based on communication that is both exciting and demanding, involving man and horse to develop personal presence and awareness of his assets. At the Horse Coaching workshop participants learn to:
Measure the impact they have in a relationship
Act in real time to facilitate and accelerate change
Put in place favourable conditions for sustained collaboration
Develop their intuitive abilities
Improve how they manage stress and emotions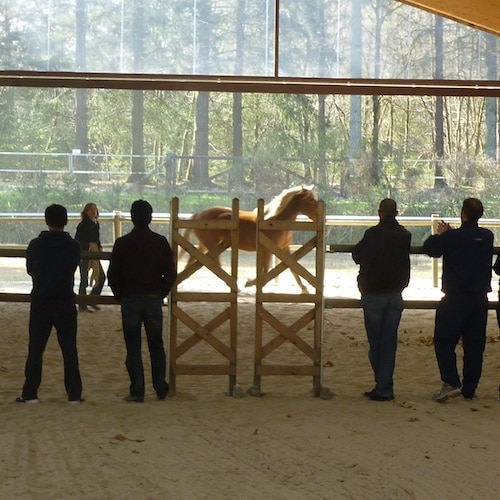 Type: Professional training
Participants: Individuals or groups up to 8
Price: on demand