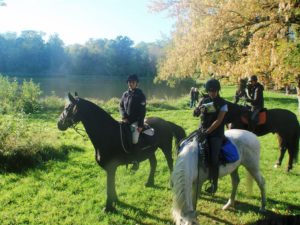 Sunday, February 12, 2017 we offer a full day trail ride from Maisons-Laffitte. We explore the forest of Saint-Germain passing by the Château de Val, just next to the Saint-Germain-en-Laye castle and the Mare aux Canes (a very cute Duck Pond in the forest). We will have lunch at La Faisanderie, an old hunting lodge, built under Louis XIII.
The forest of Saint-Germain-en-Laye, area reserved for the royal hunts since Charlemagne, knew a great development from the sixteenth century and the reign of Francis I. The latter makes pierced alleyways crossing in a star to facilitate hunting, and imposes a strict legal framework for questions relating to this "art of nobility", a monopoly of the King and the nobles, which is now endowed with a special framework regulation ; the "Capitainerie des Chasses".
The "Capitainerie des Chasses de Saint-Germain", created in 1559, was one of the largest in the Kingdom. It's enormous area currently corresponds to the territory of about 140 municipalities, about twice the capacity of Fontainebleau.
The hunting in the forest was practiced in the forest of Saint Germain until 1870 by the kings and emperors. To this end, buildings were built; "hunting lodges" of which the Faisanderie that we will make you discover.
Provisional program :
07.30 am Meeting at the stable and preparation of the horses
00.15 am Departure
08.30 am Meeting with other groups of riders. Breakfast behind the church of Notre-Dame de la Croix in the park of Maisons-Laffitte
09.00 am Departure
01.00 pm Raclette Lunch at the Faisanderie
04.30 pm Aperitif and snack in Maisons-Laffitte
05.30 pm Horse care
06.00 pm  End of the day
Level : This trail ride is open to confirmed riders able to control their mount at three paces; walk, trot and gallop.
Price: 150 € per person. Horse rental, coaching, breakfast, lunch and aperitif included. See Rates and Bookings for more information.
Schedule: 07.30 am – 18.00 pm including about 6 hours on horseback.
Date: Sunday, February 12, 2017
Reservation required : Limited number of places.
By e-mail: contact@horseholidaysfrance.fr
By phone: 06 08 07 51 91
https://www.horseholidaysfrance.com/wp-content/uploads/2017/01/D1000013.jpg
1228
1637
ANNA GEIST
https://www.horseholidaysfrance.com/wp-content/uploads/2016/11/HHF-logohome.jpg
ANNA GEIST
2017-01-05 17:40:15
2023-07-27 14:20:23
Full day trail ride with raclette lunch : Sunday February 12th, 2017